Kathmandu is a city famous for its beautiful architecture. To dive into its historical legacy, Hyatt regency stands perfect. The Hyatt regency is located within the bustling capital of Nepal. Almost 20 minutes drive from the airport, the hotel evokes charm and style with its huge porch that welcomes us with open arms. The hotel, opened in 2000, is built in the traditional Newar architecture on 37 acres of land.
The hotel is within walking distance of all the famous Kathmandu attractions, including the Pashupatinath temple, Buddha stupa and Patan Darbar square. If you are arriving by car, valet parking is available.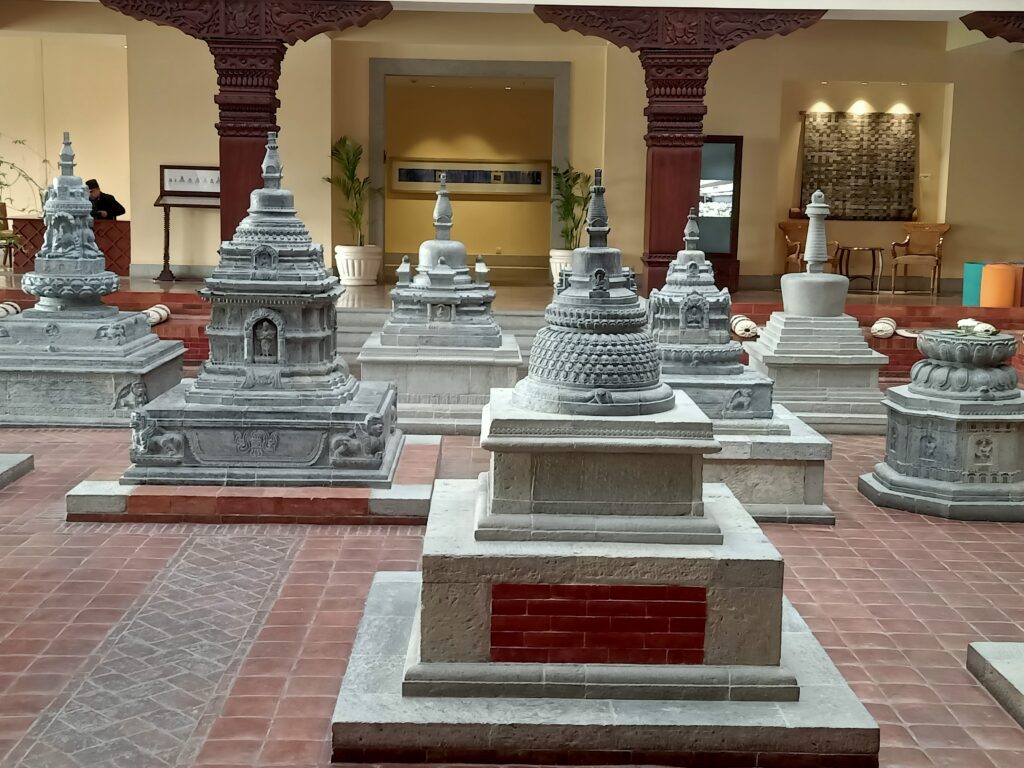 The Hotel uses a contemporary design language to complement the Newar art work in the hotel.  The courtyard is without a doubt the most striking new design structure. It underscores the contrast between old and new, while doing full justice to the Newar architecture. The atrium is intimately dotted with lush homely sofas & coffee tables with a wide open space to walk around.
On arrival we were welcomed by the staff with a welcome drink and ushered to the lounge to wait for check-in formalities.  The courteous staff will take your bags and ensure they are delivered to your room.  The service and staff is warm and friendly – almost feels like home.
The lounge of the hotel reflects grandeur with its replica of historians and architecture depicting the legacy of Nepal. Each corner evokes charm with its well carved monuments and elements that make you feel connected and welcomed with the vibe.
Access to the hotel's fabulous with pool is complimentary. Exquisite food is offered in their all restaurant & lounge.
Luxury suite
The luxury Hotel features 280 spacious rooms & suites, which are spacious, modern and highly comfortable spaces. In each room at the hotel, contemporary luxuries blend with historic design details and a calming color palette. During my visit, I was upgraded to a beautiful Royal Suite. This split-level suite was decorated elegantly and contemporary in a soothing color palette featuring dark hardwood floors and beige furniture. Enormous windows offered an authentic city view. The suite featured a lounge area, dining table and comfortable work space. The warm stone bathrooms was equipped with a large rainfall shower, deep soak bathtub, luxurious designer amenities, two large sinks, and Micro Cotton towels.
Amenities in the suite include mini bar, tea coffee, cookies, fruit platter, daily local newspaper, access to the Regency Club lounge offering private concierge.
Dining
"The Living Room" is the latest addition to the city's culinary portfolio. It promises to appeal to the young, trendy, and health-conscious denizens of Kathmandu.
This versatile space is conveniently located in the hotel's lobby area which opens into an extensive terrace overlooking the gardens and the swimming pool while being set amidst a serene ambience. It is the ideal place where people gather for all occasions – thus "The Living Room" or place to be in the hotel. We loved their buffets that range from continental to Indian and Nepalese style cooking.
Worth experiencing is their breakfast buffet offering fresh fruits, juices, dips, salads, hummus, south Indian specialties and much more. The staff is always happy and ready to serve with ease and gratitude. There are other restaurants like Sesame and Rox that offer authentic dining experience.
Spa
The spa at Hyatt regency is worth experiencing. They have spacious spa rooms with hardwood beds, mirror, and safe to keep valuables, steam and sauna. The spa therapies offered are a blend of traditional and contemporary massages executed by their well trained staff. They also have a Jacuzzi and sauna for complete rejuvenation.
Details
Address: Taragaon, Kathmandu 44601, Nepal
Phone: +977 1-5171234