We all need a break from our
ever-connected, spontaneous urban lives. Goa is the perfect excuse to land in
the lap of nature. It has smooth-as-silk beaches, the perfect amount of sun and
lush green foliage.
Now, it also has another excuse
to fall with Goa all over again —Sol De Goa.  Located in Bardez, it is a stunning attempt to
draw attention away from the bustling North Goa and succeeds in bringing out the
picturesque Portuguese styled abode.
With the calm Sinquerim River flowing on
one side and lush paddy fields bordered by fresh green hillocks on the other,
Sol De Goa looks immaculate.If there's a chance to be deep captivated
by native birds while enjoying a relaxing dip in the pool with a cocktail in
your hand, this is the one to not let go.
Sol De Goa
is a simple but earthy
resort that has basic essentials with a luxurious twist. The boutique
twenty-one room hotel is located in the heart of North Goa, which has made its
mark with ultra soft bedding, scrumptious food and impeccable cleanliness.
We
checked in at noon and were escorted to our rooms. The rooms play a very vital
role in summing up a hotel's reputation and Sol De Goa is definitely an upscale
in that segment. Each room has a decent view and simple pleasures like
television, telephones, neat baths and a decent wardrobe.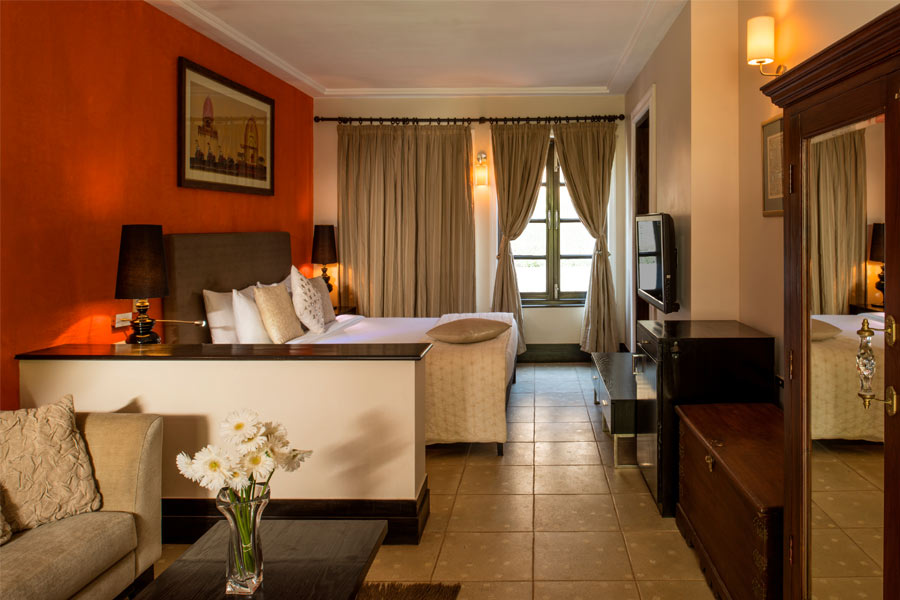 A warm shower refreshed me and I moved
towards the restaurant area for lunch with my family. The restaurant is very
simple with an alfresco dining area that opens up to the bright outdoors with
plenty of trees. The adjoining pool and the bar add up to the relaxing element.
You can choose from a humongous variety of concoctions that simply take away
your tiredness and accentuate your relaxation.
We took our seats near the
poolside and were served a welcome drink called 'Sole Curry' made with Kokum.
The traditional Goan drink signifies warmth and love offered by the locals. The
drink is bit spicy but much better than any aerated beverage.
We ordered for lunch from the
menu. The wait for a long one but the patience paid off. A steaming hot dish of
Prawn curry, King Fish, Fried Prawns, Rice and Rotis arrived. I have to admit,
the king fish was the best fish I have tried ever eaten.
The softness melts in
the mouth making every bite seem divine. The dining @ Sol De Goa has several sea-food
options which combine delicacies with fresh herbs.
I slept like a log after the hearty
lunch and woke up very late. Later, we enjoyed some peaceful time in the well manicured gardens that reverberated with the sounds of birds and squirrels. The Goa carnival was going on those days and we were
excited to experience it.
We took a cab and went to the city to witness a beautiful
combination of colors and music together at the carnival. While visiting Panjim,
do enjoy other entertainment unique experiences such as dolphin shows near the
Fort Aguada or even some local shopping that you can indulge in.
We returned late from the
carnival and had grilled fish and soup. The night passed peacefully and we
slept till late in the morning.
A fabulous buffet breakfast was laid and we
enjoyed the fabulous array of Indian and continental spread. We moved out of
the resort to see Goa's beautiful beaches like Calangute, Anjuna, Baga Beach.
We
returned quite late in the evening and ordered some Chinese food in the room
that was well cooked and piping hot. We loved our stay and checked out the next
day to our next destination. If you are looking for a Portugal styled resort,
Sol De Goa should be the one to consider.