How would it be like if you got a chance to make your own pizza and eat it?
PizzaExpress recently had an amazing kids party at their Ambiance
Gurgaon outlet. Having acquired  a large footfall at this outlet, Pizza
Express has indeed become a favourite for Italian food lovers.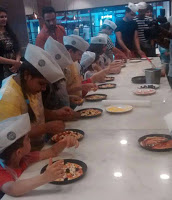 The pizza making session for kids at its Ambience Mall had moms gleefully watching their tiny ones donning a cute chefs cap and a large apron.  The young budding chefs and equally enthusiastic mothers were all excited and ready to begin making pizzas.


The
Pizzaiolos
– pizza
chefs of the restaurant did their best in helping their tiny ones making the
pizzas from the start to finish. 
The masterpieces are carved by the skilled
Pizzaiolos
– pizza chefs, dressed in black and white stripes, who
train for a minimum of 12 weeks to master the art of pizza making. These
Pizzaiolos
add to the virtual treat of
seeing the Pizzas tossed and stretched ensuring the perfect dough.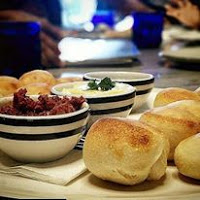 PizzaExpress is known to take inspiration from the local surroundings
and the local culture that speaks of a unique and striking feature. 
Restaurant design is inspired out of the ceramic potters who used to be inhabited here
before the mall came up. Design of the ceramic plates is carrying Persian art
and also reflects the journey of PizzaExpress from Wardour Street, London to
Vasant Kunj, New Delhi.  Every restaurant
has an open kitchen offering the craftsmanship of the Pizzaiolos, which adds to
the beauty of the already exclusive ambience.
Apart from the secret dough recipe, the tomato Passata sauce used
for the Pizzas is sourced, especially from a tomato farmer, Greci family near
Parma, Italy.
PizzaExpress is here to pamper the foodie in you with its unique
ambience, Italian and inexplicable hospitality. So come and experience the
Joie de vivre
today.
Also Read