Ten years ago, on June 30, 2005, the Indigo Delicatessen
was born. To celebrate a successful decade, the restaurant introduced a power-packed
weekend bringing forward a special menu with free goodies, contests and more! 
Located in 
Ambiance mall
, Vasant Kunj, Indigo Deli is brilliant for a get together with close friends and family.
 The large space exhibits the décor in a rather impressive manner while
each corner gives justice to the perfect view for diners.
A big shelf next with
in-house sauces, breads and more reflect the intense research in showcasing the
best flavors Indigo Deli is so famous for.
As we stepped inside the
restaurant, we were ushered to the table next to a large glass window that gave
a picturesque scene of the mesmerizing monsoons.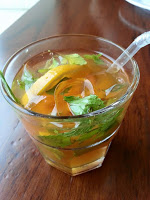 The curated summer menu was
crafted to give a sneak peak to the weekend menu. We had an interesting choice
of drinks, soups, starters, mains and desserts right before us.
I ordered for a Cranberry
Raspberry Lime tea while my partner picked the Garden Tea Punch. The latter, an
infusion of fresh orange and lime juices spruced up with a hint of fresh mint
is a perfect choice if you prefer your drink, sweet and tangy.
The starter included a plate of
churros, decorated in mayo and cheese that instantly satiated our taste buds. The Waffle chicken sandwich has
all the elements of a perfect sandwich, comes decorated with potato wedges and a
hint of green on the sides. The big juicy burger with Caramelized Beer Onion
and 3 cheese melt was slightly on the sweeter side, but melts in your mouth
instantly.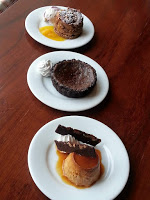 The desserts, that are definitely
worth complimenting are an orange walnut clafoutis, a hazelnut crème brule in
oreo crust and Dulce de leche crème caramel with chocolate walnut biscotti. The
gooey crème Brule, that had a volumnous sugar overdose was complimented well
with the ice cream.
Pick up any day in this weekend
to indulge into flavors crafted simply for indulgence.
Friday, July 10:
Food Truck Kitchen
The crazy popular American food trucks meet Indigo Deli- a menu featuring all
that's greasy, cheesy, saucy and downright yummy, designed to take you straight
to food truck heaven!
Saturday, July 11: Burger Off!
Big, juicy, gourmet burgers with the works- the perfect Saturday! Caramelized
Beer Onion and 3 cheese melt; Chorizo Double Cheese; Quack Quack Succulent Duck
in Steamed Bao; Crabcake with green apple mayo and Sriracha
Sunday, July 12: The Ol' Fashioned Deli
The Deli goes retro with a special menu highlighting those forgotten
classics such as the Minestrone, Camembert Soufflé, Beef Stroganoff, Old
fashioned Carrot Cake, Bread Pudding and Blueberry Crumble.
Where?
Indigo Deli
Level 3 Ambiance Mall, Vasant Kunj, New Delhi
Also read