These days, you can find
commercial fresh juices almost everywhere. They are either made from
concentrate or are heat processed to preserve the juice, which significantly
reduces the essential healthy nutrients.
My review with the
Crudo
Juicery
was totally a fresh take on juices. On a warm weekday, I decided to visit the
newly opened juicery in Galleria. Opened just a month back, it has started a
good fan following already with loyal customers coming back for more.
The owner, Amit Sahni who has 16
years experience in hospitality is passionate about a healthy lifestyle. He introduced
Crudo to give fresh juices that are not just healthy but delicious too. Crudo
literally meaning "raw" in Italian, is a concept juicery that serves raw fruits
and vegetable based treats.
A cute little shop tucked at the
corner on the first floor in Galleria,
Crudo
has a very fresh vibe that is hard
to get unnoticed. Fresh fruits lined up on the shelf, brick walls with three
blackboards and a glass counter to showcase the preparation are some of the
interesting factors of Crudo. The menu is as colorful as the place. A deadly
combination of fresh fruits make up for interesting salads, smoothies, shakes
and cold press juices.
To ensure Crudo has a good shelf
life, Amit ensures that no pasteurization goes into making the juices. The fresh fruits are sourced from
the fruit wholesale market in Delhi and delivered straight into Crudo. On
arrival the fruits are washed with fresh water and then pressed to give a
fabulous smooth and pulpy drink filled with the nutrition and fiber.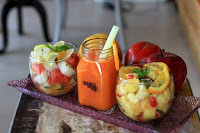 I sampled the Rose Berried
Treasure. Made with blueberry, strawberry, gojiberry, watermelon, orange and rosewater,
this cold pressed juice is bursting with goodness and maximum nutrition.
Other
variants comprise of different flavor combinations including cucumber,
beetroot, kale, ginger, lime and carrot that cover the essential minerals and
nutrients, with no added sugar, for complete nourishment.
Next I sampled a different take
on salad – Tutty Fruity Poppy Seed salad. Made with the goodness of oranges,
pineapple, pomegranate, mango and sprinkled with poppy seeds, this salad is the
perfect answer for a holistic nourishing meal in itself. The portion is decent
and presentation is captivating.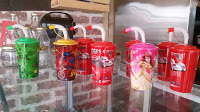 I loved the Berry Cinnamon
Yoghurt. A dash of cinnamon added to the yoghurt makes this simple yoghurt a
healthy dessert option for weight watchers.Crudo also delivers the juices to
nearby locations in Gurgaon. The pure juices brim with higher levels of
nutrients and vitamins than pasteurized juices and have a vibrant, fresh flavor,
free from added sugar.




Address
SF85, Galleria Market, 28 1001,
Sector 30 M Wide Rd,
DLF Phase IV, Sector 28, Gurgaon,
Haryana 122002