When travelers recount experiences at their favorite resorts, their memories usually come down to one detail: hospitality. The Windflower Prakruthi in Bangalore is one such establishment that has consistently astounded me with its unmatched hospitality, delivering everything you would expect and more from a luxury Resort and Spa.
Location
The Resort is located on the outskirts of Bangalore, close to the Devanahalli airport. The 7 acre resort promises a perfect getaway for couples, families, get-togethers, weddings and corporate events.Nestled amidst lush greenery and natural bounties, the amenities at the resort and spa include a lavish space for weddings, a luxury spa, swimming pool, indoor badminton court, snooker, football and cricket ground, indoor games room and a variety of adventure sports.
Rooms
The Windflower Prakriti has 52 guest rooms (Standard, Studio, Suite, Villa and Bungalows), each with astonishing views of landscaping and water bodies that are a dominant factor at the resort.  The villas and suites provide a heavenly outdoor setting to relax and enjoy solitude and peace. The suites are spaciously and generously laid out to ensure privacy, but whatmakes this an interesting place to splurge is the comfort level of a home that guests acquire. The architecture creates a unique experience for guests to take back wonderful memories. I had to catch a flight to Delhi and had barely two hours in my hand to enjoy the property.
Spa @ Windflower Prakruti
The General Manager realized this and wanted to offer the best possible service in this duration. It's that level of attention that separates a luxury property from the rest. A studio room was given to me where I freshened up. The décor is contemporary with a traditional touch equipped with sizeable bathroom offering a selection of daily amenities. The luxury factor I loved was the outdoor shower area that was open to the sky. I decided to head to the spa that was barely few steps away from my suite. The masseur welcomed me with folded hands and made me lie on a massage bed. With a generous amount of oil in her hand, she worked up the magic of her hands while taking particular care over my neck, shoulders and arms.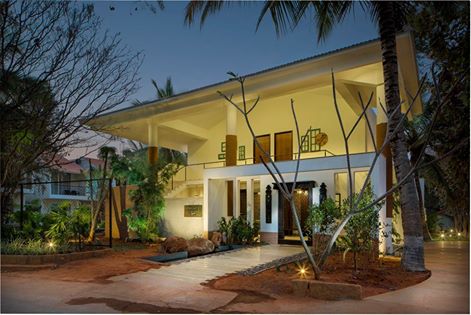 The combination of the oils, warmth and soft music transported me to another world. The lavish spa experience ignited my appetite and I headed towards the restaurant. The Windflower Prakruthi offers an array of food and beverage experiences for the most discerning of guests from pan-Asian to Mediterranean delights. The adjoining bar also offers lavish themed nights. I had a grilled sandwich and a cup of tea while enjoying the beautiful landscaping overlooking from the outdoor dining area.
Adventure activities @ Windflower Prakruti
Later, I went for a walk to the in-house plantation area where I could see animals like cows, ducks, and hens roaming freely. Fresh milk from the cows was something I devoured while I visited this place which is also the venue for adventure sports like quad biking. I enjoyed a quad bike experience that was both exhilarating and adventurous. The landscape designers have added finishing touches to the resort to give it a completely refined, elegant and chic appearance.
The staff here offers a hospitable service that assures their assistance to serve you warmly and lovingly.  I loved my experience at the Windflower Prakruti and took back wonderful memories of my brief trip.
Address
The Windflower PrakruthiPlot No 12 A, Hegganahalli
Village, Kundana Hobli, Devanahalli Taluk, Bangalore
North, Bangalore