Palghar, a lesser known tribal village is home to scenic views of waterfalls, lakes, clean beaches, delectable cuisine, local culture and worth visiting temples.
Palghar is approximately 2.5 hours from Mumbai. The road is smooth and free from traffic overload. What is worth appreciating is the scenic beauty that is worth admiring on the way. During monsoons, it looks even more alluring.
Here are 6 places in Palghar that are worth visiting
1.Hot water springs in Dhekale
Dhekale is a lesser known tribal village known for its hot water springs. People from far flung areas come to visit this place for treating persistent ailments. It is fascinating to sense the medicinal qualities of the hot water springs. There is also a nearby temple that you can visit once you reach there. Dipping your feet in the hot spring water takes away fatigue. It's actually worth trying.
2.Dhekali Dam
Next we moved towards the Dhekale dam, passing through thick green foliage and shrubs, welcoming us through the soft drizzle. While grey clouds loomed in the sky, the grass looked greener with rainfall – making the scenery look even more inviting. It was a magical sight, something that can only be experienced, not heard or read.
3.Dhekale waterfall
Gushing with full force, all ready to sweep away the tiredness, the Dhekale waterfall is worth visiting. the best part is its scenic beauty and the cleanliness around it. You can sit and soak in the soothing vibe – water cascading through hard rocks, making their way to the ground.
4.Kelwa Beach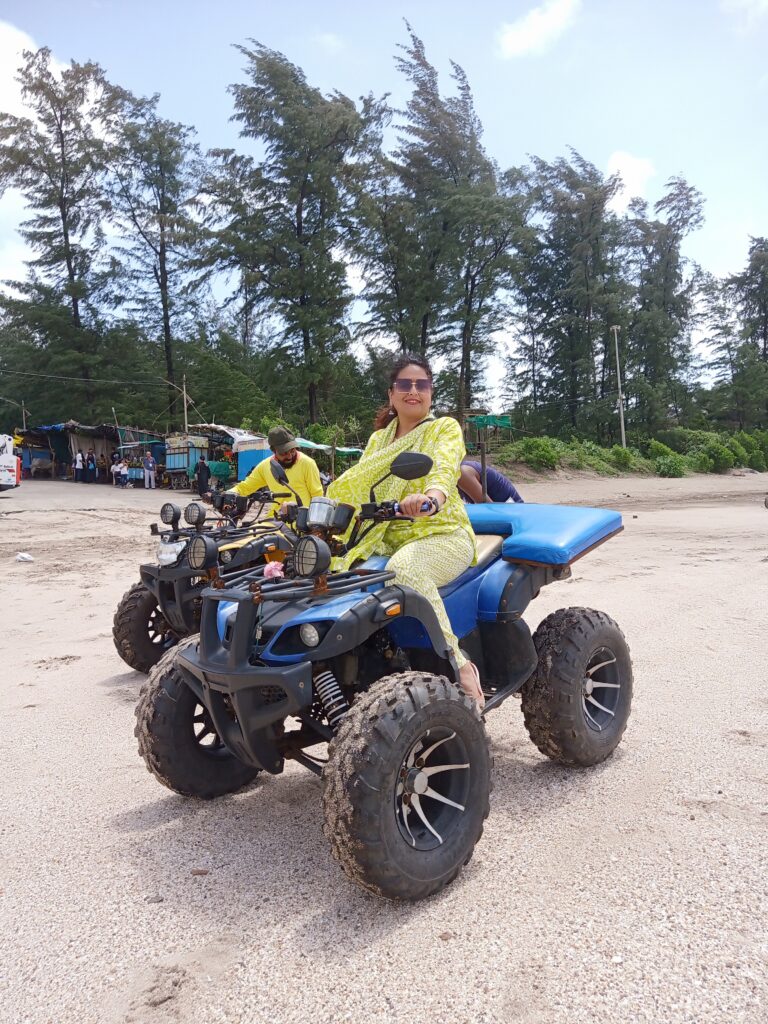 Kelwa Beach is a popular weekend getaway for tourists from Mumbai. The beach is about 8 kilometres long. It is not a very famous tourist attraction, hence making it cleaner than other beaches. Kelwa Beach is easily accessible from the Kelve Road station situated about 5 kilometres away.
It is also a 25-minute ride on an 8-seater rickshaw from Palghar and around 30 kilometers from the highway. Kelwa Beach is also connected by state transport buses which make frequent trips from Palghar or Saphale and Kelwa Road Station. Tourists can enjoy bike rides, horse carts and cycle rides at nominal cost. there is coconut water also available at a decent cost.
5.Warli art in Vikramgarh –
Vikramgarh is famous for warli art. The warli tribal painting art form first originated in Maharashtra, which is still practiced till date. It is believed to be one of the oldest kinds of art forms in history and is pretty popular in India and has a set of basic geometric shapes like a circle, a triangle, and a square.
To many, warli art story may seem like just a simple art form of India. On various occasions, this type of painting is mainly centered around the concept of mother nature and its elements. Quite often, multiple parts of nature are the focal points further accentuated in these paintings. A fascinating fact about Warli artists is that local villagers use their clay huts as the backdrop for their masterpieces, much like how ancient people utilized their cave walls as canvases. Worth trying is the warli art form on paper, as guided by the local teacher. We tried our hand at the art form and loved the experience.
6.Tetavali village –
Tetavali village is famous for bamboo art. Here we met Namita, a bamboo stick artist and devoted homemaker. Namita made her village and community proud by being invited for the prestigious G20 Summit in New Delhi by PM Modi.
As we entered the small shack, we saw a bunch of women fully engrossed in bamboo art creating baskets and other items effortlessly with bamboos. Almost 600 women every day from different villages in Maharashtra come together to create bamboo art work. The women diligently create beautiful pieces that are sold to NGOs in several states. Namita and her group daily dabble with farming, house work, rearing their children and bamboo work on a daily basis. Their devotion and consistent hard work is reflecting well in their creation which is exported outside their villages. The women earn approximately 9000 per month, which makes them confident and happy self-reliant workers. The spirit of being financially strong gives them a glow on their face and they feel contended to bring their art to the world.
Palghar is yet an unexplored destination where you can get the most of beautiful landscapes and talented craftsmanship worth applauding.