Since the advent of the year 2020, things have suddenly become static. With the pandemic running its course in full swing and unexpected financial downfalls, there is still hope of happiness and entertainment returning back to us.
Amidst all the chaos, the hospitality industry is pulling up quite well. Inspite of things going wary, there are some hotels that bring a smile to your face with their warm hospitality and great food crafted by their master-chefs.
I am referring to my latest visit to the Sheraton Hotel New Delhi. Seeped in culinary essence, the hotel is brimming with cheer and warmth. Besides the usual safety measures taken at the hotel, there is a special vibe that cheers us up instantly.
After pampering sessions at their in-house salon we are ushered towards their Chinese specialty restaurant called YJing.
YI JING – Distinctly Chinese
If you are looking for fine dining, a magnificent view and an exceptional cuisine, then you would have to choose The YJING Restaurant at the Sheraton New Delhi. This place is absolutely fantastic!
The Chinese restaurant looks spectacular with a red colored theme that dazzles throughout the wide open space. Subtle lights and huge chandeliers adorn the dining area adding warmth and a welcoming feel to guests. Bright and wide sofas and chairs ooze comfort while the dining tables give enough space for a nice meal to enjoy. The tall window ushers in sunlight on a chilly winter afternoon.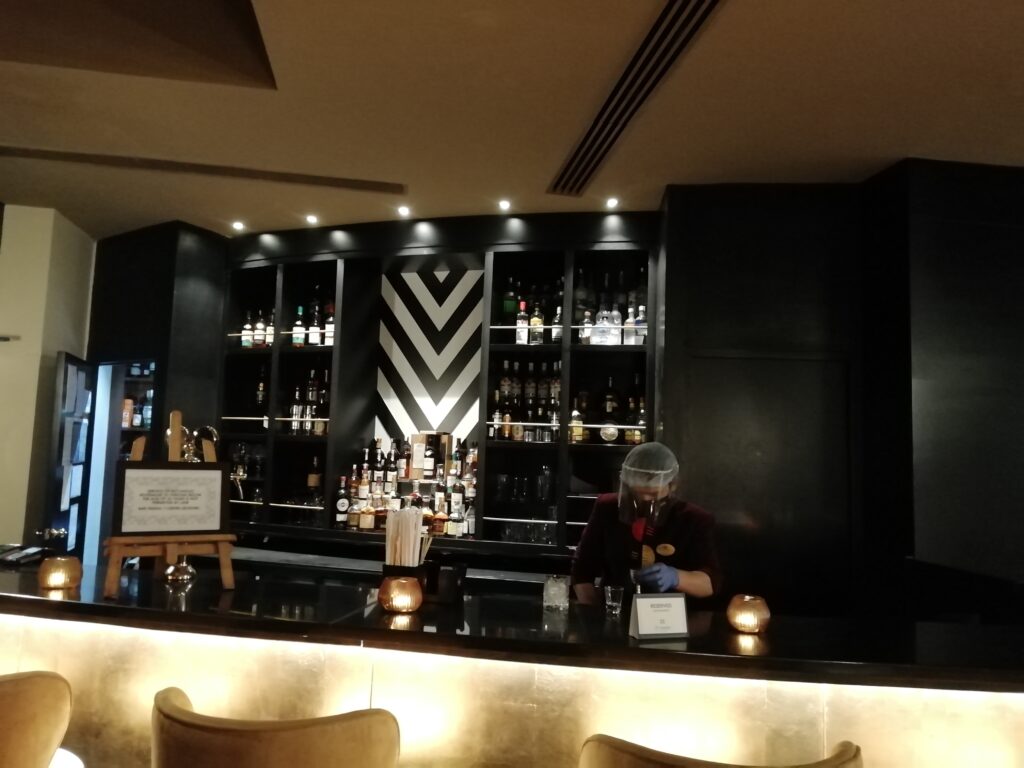 What we loved was the way the entire space has been utilized. Due to Covid safety protocols, the seating capacity is cut down to 50%. The bar is fully functional and has crafters to create interesting cocktails and mocktails.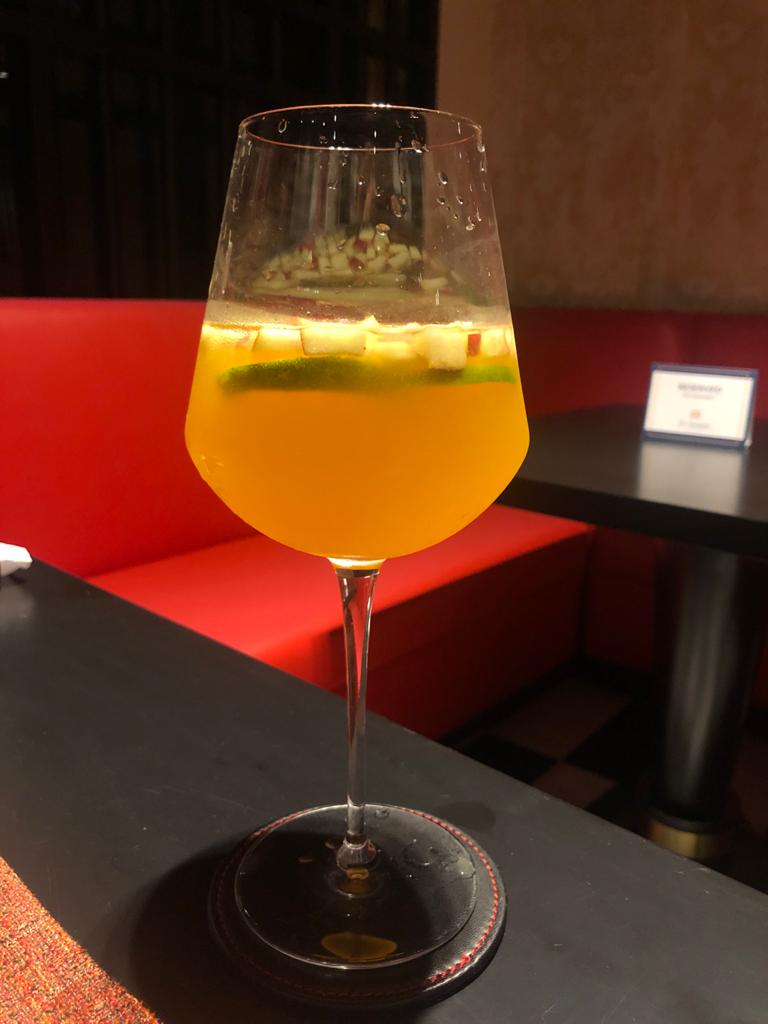 We begin the food review with a tall glass of sangria in white wine. The fruity combination to wine is always endearing leaving a smooth velvety after effect. The chef introduces us to a gastronomical odyssey with Sichuan prawn, Sichuan green bean dimsums, Spicy bullet chili chicken dumpling.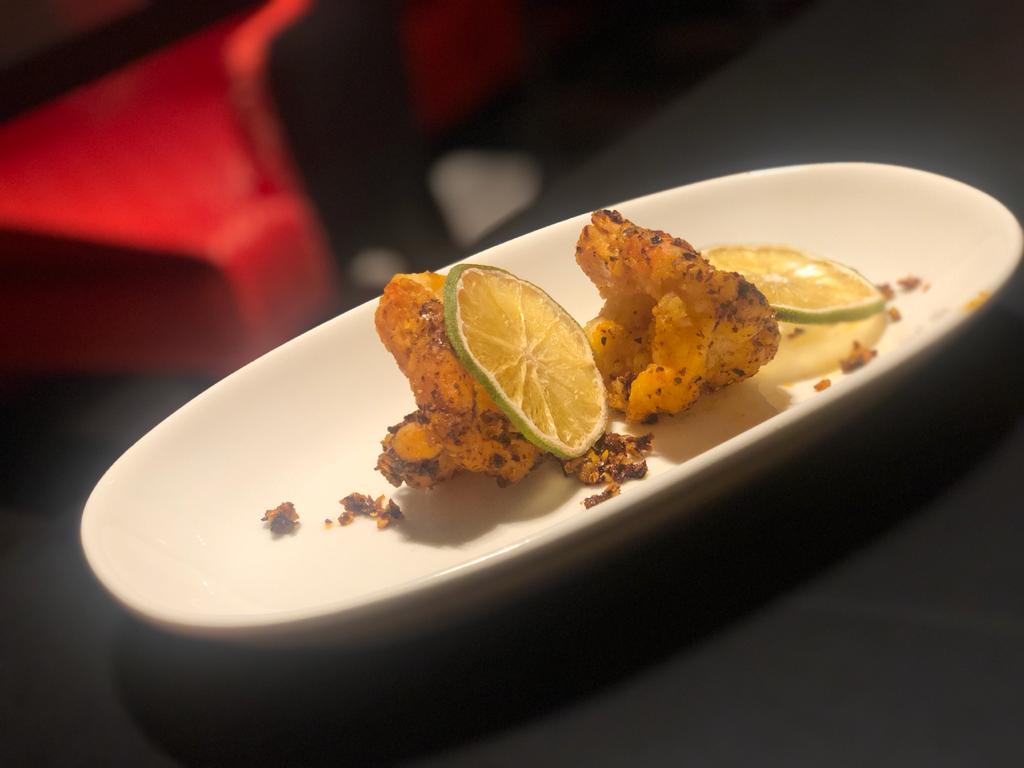 The starters were delicious and perfectly cooked.  We also indulged in their hunan chili chicken. The sauces in this dish are all well made and has a lovely sticky, sweet quality to compliment the flavors.
Their Lobster in XO sauce is a prized Chinese delicacy braised with vegetables. It was absolutely tender and flavorsome. The lobster had a nice flaky, fall apart texture that worked really well together. This was a nicely executed dish. The river sole fish was soft throughout and melded with the sauce nicely. It went perfectly well with the Yang chao fan rice, a Chinese delicacy made with shrimps, prawns and lamb.
We finished off the meal with a White chocolate ginger cheese cake. I adored the presentation of the cheese cake – lusciously rich, and the base crumble worked to great effect by giving the dessert a great textural contrast. The food review concluded on a beautiful note.
We are truly grateful for the family of Sheraton New Delhi to remain consistent in these times of uncertainty.
Details :
Place: YJING, Sheraton New Delhi Hotel
Address: District Center Saket, Saket, New Delhi, Delhi 110017
Hours: Open only on weekends
Phone: 011 4266 1206
Meal for two : Starting from INR 3500