Kapaali refers to Lord Shiva. Located in the beautiful escapade called Greater Noida, sits this wellness abode that is synonymous with love, family, happiness, peace and tranquility. Here you come as a wanderer and go back as a friend to the Kapaali family. It is owned by two sisters; Mansi and Suhani, one who is an ardent yoga enthusiast while the other a die-hard marathon runner who loves making friends.
The place is about two hours drive from Delhi and is a one-of-its-kind Wellness Retreat. The House of Kapaali runs under the name of Lord Shiva and has eight tastefully decorated rooms called – Omkara, Nataraja, Rudraksha, Mahamaya, Kailash, Shambho, Shankara and Pushkara.
Opened in 2007 to people who love the unusual, this place offers all-inclusive healthy holidays to change the way you think about well-being and programmes which Invigorate, Replenish & Enrich the mind, body and soul. The wellness retreats are held at their farm that is about 30 minutes drive towards the Yamuna expressway. These retreats have set dates and specialize on health and wellness throughout the year.
Accomodation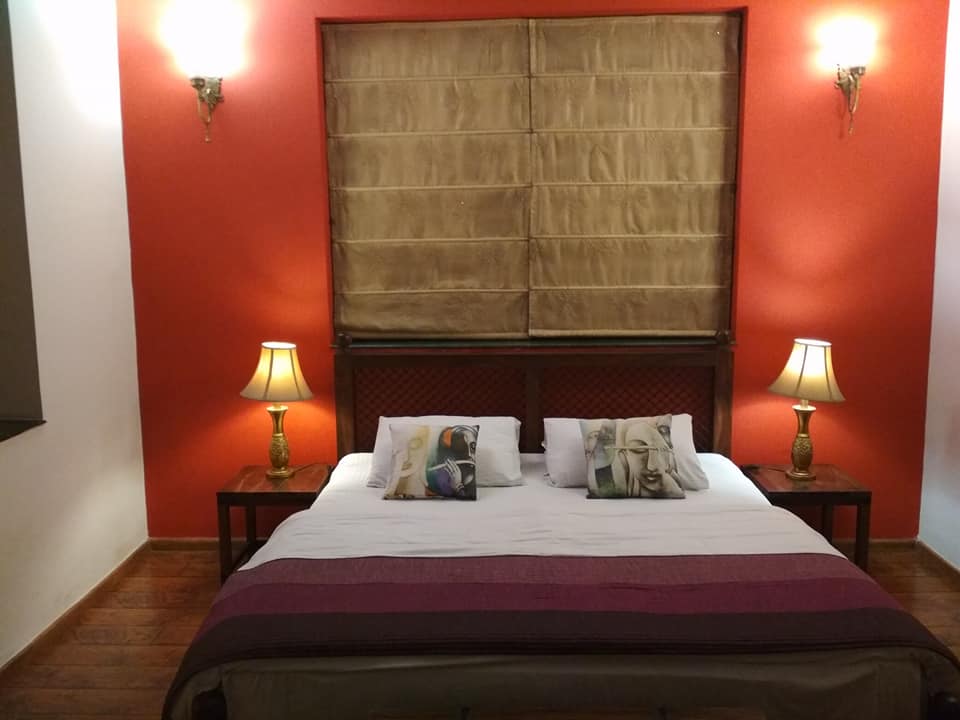 Beautiful elements make up this wellness retreat, that has a reception, dining, kitchen and Zen inspired rooms with floor-to-ceiling view windows that bathe the room in natural light. Each room is created for comfort and is laden with decadent rich textures, comfortable beds and luxurious linens. The huge washroom has luxury essentials that make the bathing experience an indulgent one.
The products from Manaste kept in the washroom exhibit luxury and care for their guests. I have never enjoyed my bathing experience anywhere else. The shower gel and shampoos are made with natural ingredients that are mild and safe to use. The in-built closet with a safe inside adds to the comfort at the House of Kapaali.
Although there is a complimentary Wi-Fi in the rooms, it's always best to communicate with the surroundings and the warm hosts of the house that make you want to stay on forever.
The boutique property is filled with exquisite paintings, miniatures and plants that are placed in every corner of the house making you feel at home. They have a very roomy balcony well equipped with potted plants and European furniture.
Dining
The kitchen staff is incredibly knowledgeable and super approachable anytime. The food here is the best part ; sourced from their organic farms and made to perfection with with love and warmth. All dishes are a perfect concoction of taste and presentation that accentuate the appetite even further.
We had black lentils and dum aalo with some naan. I try to stay away from heavy dinners, but when
I had the first bite I was lost in the aromatic flavors and seasonings that made me eat wholeheartedly.
One of the most liberating things about House of Kapaali is that there is simplicity in everything. The delicious meals are served at the table and all you have to do is turn up and absorb the benefits.
The Farm Experience
House of Kapaali has a beautiful farm where they grown their own vegetables. We were invited to experience simple yet delicious meal at their farm made by the caretakers. Barely half an hour away from the House of kapaali, the farm house sits on a vast farmland with vegetables that are grown organically.
You can have get a chance to pluck their organic spinach, lettuce, garlic and also enjoy running around the open spaces on the farm.
Highlights
· Retreats at the farm
· Delicious and fresh food
· Personal attention and care by the hosts
· Activities like cycling and running
Conclusion
 The House of Kapaali is perfect for solo travelers, couples, friends or anyone who is serious about making a difference to their well-being and come out the other side feeling refreshed and renewed.
Details
Place : D 45, Block D, Sector 48, Noida, Uttar Pradesh 201303
Phone: 086469 07777
Email: info@houseofkapaali.com
Tariff: Rs 2,500 Onwards
Website : https://houseofkapaali.com/