Overview
On our latest visit to Tamil Nadu, we visited a very exquisite property that has an amazing conjugation of rural tourism and uninterrupted luxury. The property is INDeco Swamimalai. Before I talk about how distinguished and surreal INDeco is, I have to share reasons for visiting this quaint village.
Swamimalai –  Rural Tourism
Swamimalai is literally a temple city that also boasts of bronze statues and the infamous Kumbakonam Degree Coffee. INDeco Hotels, Swamimalai, lies amidst 3 UNESCO World Heritage destinations: Darasuram, Gangaikondacholapuram and the Bragadeeswara Temple in Tanjore.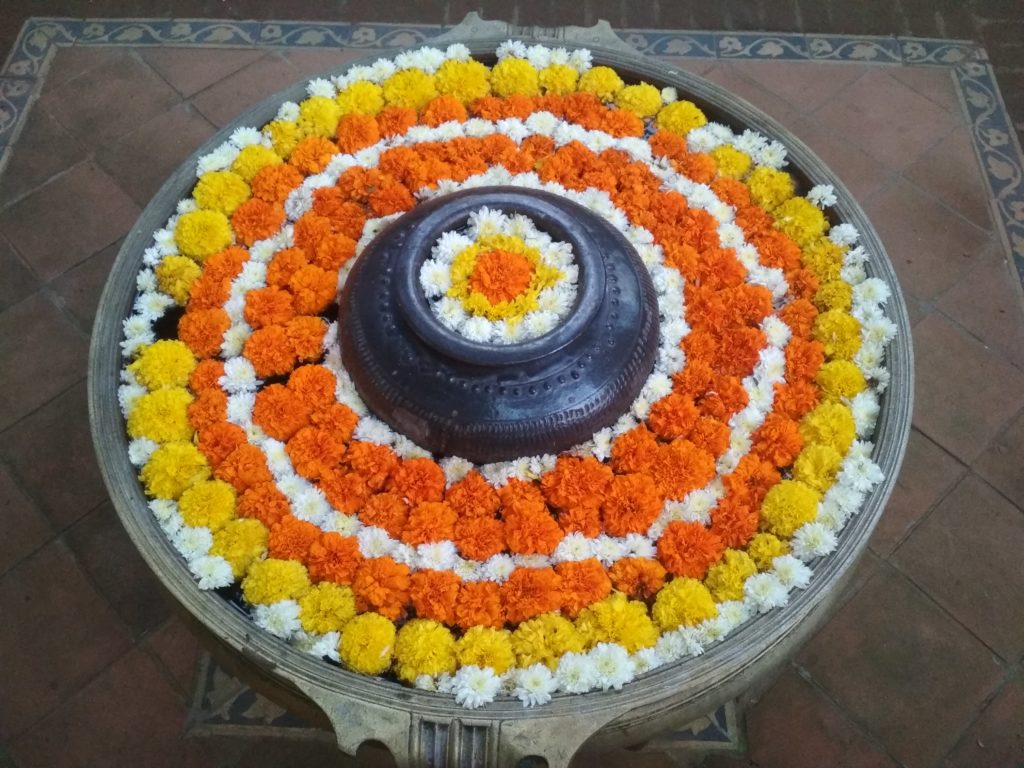 Owned and managed by Steve Borgia, INDeco Hotels Swamimalai was manifested in an epic villa, exactly a hundred years after the original house was built. Emerging from the existing village framework, this hotel continues the heritage, culture, traditions, lifestyle, and practices.
Hotel website: http://www.indecohotels.com/
Location
This hotel is located inside a small village that opens to a huge area that exhibits old world charm and rustic heritage. The place is a replica of an old village with subtle elements of luxury thrown in.
Warm welcome
The small by-lanes of the quaint village only add to the rustic experience. As the cab moves towards the porch, large trees aligned so strategically welcome us. A shed with cattle grazing on one corner, a small area where hens and chickens are fed reflect the love and care the hotel has towards the animals. Large statues in bronze look enchanting and add to the grace of the space. The welcome at INDeco Swamimalai is the finest I have ever experienced.
We were welcomed in a traditional manner with a saffron tilak, cold towel and a welcome drink. The highlight of the welcome was the therapeutic foot massage with Ayurvedic oil that helped us to ease off the tension and helped us to relax.
The reception resembles a museum that has a vivid collection of ancient instruments dated centuries ago. While we relished the welcome drink, we heard the amazing story about each instrument and objects by Mr. Steve Borgia himself. His passion and ardent dedication was reflected in his introductory walk.
We were elated and impressed at the same time. After a friendly check-in, we were ushered to our room that was a small walk past a deer park. It was fascinating to see deers grazing on grass. We loved how animals are taken care of so well in the hotel premises.
Corporate Social Responsibility
The hotel also ensures to provide employment to the needy and helpless, who get shelter under the premises and get decent wages and security. What we loved most was the unique hospitality and warmth the staff ushered towards us in a traditional manner.  
Accommodation
There are a total of 80 individually and ethnically designed comfortable suites that these are located across three floors of the hotel that have balconies. All the rooms are spacious, extremely well appointed and super clean. There are Superior, Deluxe, Executive, and Presidential suites.
There is a small lift which takes you up to all the floors that exhibit luxury and modern elements at the same time. Statues on every floor replicate the traditional setting that dominated the area decades ago.
We stayed in an executive room that has a nice seating area with comfortable sofa, bathroom/dressing area and a super-comfortable king-size bed with lovely bedding that was warm enough. The exemplary marble-lined bathroom with large sink, bath, and a WC complete the luxury look.
In one of the rooms, there was an unconventional Jacuzzi that looked amazing. The natural fittings, ample lights and flowing water gave competition to the modern jaccuzi.
The room was excellent in terms of space, facilities and cleanliness but the category does vary quite dramatically in terms of size.
Dining
The dining area was the best as it was open to wide space of huge trees that have been planted several years ago. The vast space with seasonal plants and trees coupled with fresh give the place ten stars. The indoor seating is also wide and spacious giving the look of a traditional South Indian restaurant complete with heritage décor and simple furniture. Windows with grills that go back decades ago resonate warmth and comfort while dining. There are huge clocks and other artifacts that make the place resemble a heritage marvel.
A sumptuous breakfast and lunch buffet is served daily and the restaurant has good options for À la carte. Breakfast was exceptional – there was such a choice of fruit/juices, dosas, uttapams, and other traditional Southern dishes that pleased our palettes.  Tea, coffee and fresh juices are also served to the table. The best thing is that you can also order from a very wide range of continental and traditional dishes from the menu. The choice of food however was exceptional, as was service.
Ampitheatre
There is a huge ampitheatre where award winning performances by talented maestros are conducted. We were fortunate to be a part of a Bharatnatyam performance by a young girl who danced beautifully. Her flawless dance movements exhibited the ardent passion and decotion towards her field.
Facilities & Service
The hotel has an incredible spa – this is traditional, therapeutic and definitely unconventional. The masseuse in INDedo Swamimalai is local and gives an incredible experience to guests. Their massages are definitely worth trying as they help in relaxation and rejuvenation. The rooms aren't fancy or decorative but the treatments are good.
Besides that, guests are also offered rural experiences that include bullock ride and temple visits.
Contact details
6/30 B – Agraharam, Thimmakudy Village, Baburajapuram Post,Kumbakonam – 612 302. Tanjore Dt. Tamil Nadu, India.
+91 94444 10394, +91 09444410391, +91 0435-2480044
reservations@indecohotels.com