Delhi now has a reason to live the high-end life with the Life Caffé.
The newly opened Café
has a mélange of cuisine along with an amalgamation of good food, relaxed environs, cool indoors and a
pleasant alfresco dining in the heart of Lutyen's Delhi.  You can delight your taste buds and savour every bit of the fine dining experience at the Life Caffe'.
The Life Café has an outdoor and an indoor sitting area. You can enjoy your meal under a star-light sky on a cool evening or sit indoors to beat the summer heat. Wednesdays and Fridays are special days for live bands where you can enjoy your favorite music while devouring your favorite dishes. 
The alfresco experience has a bar, English lamp posts, along with the privacy of gazebos. With two outdoor gazebos and plenty of open-air seating, this space is yours to experience heaven in the heart of the city. You can enjoy the sound of water cascading down the waterfall in the outdoors and soothe your senses. A winter night with live grills that are flared up to add that extra spark of energy under the night skies at Life Caffé is just what you need to make your evening more enchanting.
The indoors space of Life Caffe is resplendent of a beautiful and soothing English styled café space. The ambience, combined with a vibrancy and freshness celebrates life with its various elements. Floral wall art with a large mural perched right opposite the bar counter, little birds and framed moments adorning the walls, comfortable chairs, large roomy couches dotted across the indoors space add beauty to the café.
Ankur Sachdeva, owner of Life café says,"They say the only constant in life is change! And while you deal with life's eclectic journey, full of emotional highs and lows, experiences that make you wiser and moments that you hold close, Life Caffé promises to be a part of that journey. A journey through Lutyen's Delhi and through the myriad tastes of the finest picks of cuisines to create an experience that will be memorable, cherished and celebrated in Life,". With Life Caffe, Ankur wants to bring back the concept of casual, comfort dining in a chic afresco ambience.
You can tantalize your taste buds with an array of dishes from across the world. Take your pick from a vast assortment of breakfast options or explore café favorites like sandwiches, soups, salads, or pizza. The culinary offerings don't just end there; there are global cuisine favorites like sushi, dimsum baskets, Thai curry, Shawarmas, wraps and live grills too. Choose your pick from Poori Bhaaji, Seafood Laksa, Zuppa de Tortilla, Koliwada Fish Fingers,Kholapuri KeemaTarts, Fotomaki Sushi Platter, Bunny Chow, Croissants and lots more.
The Life Café has signature soups that can be relished at a chilly winter evening. Some of them are Baked Onion Soup, a country style French Onion broth flamed with Brandy; Corn and Chicken Chowder, a thick soup of Corn and Chicken flavoured with Herbs and Wine ; Seafood Laksa, a spicy Thai Seafood Soup with Coconut milk and Lemongrass. 
Non veg salad lovers can have smoked Chicken Salad that has apples and candied Spicy nuts in Apple cinnamon dressing while Vegetarians can order Glass Noodle Salad that is made with Bean sprouts, Celery, Spring onions, Cilantro in a piquant Tamarind dressing. Appetizers like Shrimp Peri Peri Bruschetta, Thai Chicken Wings and Koliwada Fish Fingers can be relished by people who love fish, chicken and shrimp. Kasundi Baby Potatoes and Ghongura Mushroom can be relished by vegetarians. Grills at the Life café have an exorbitant variety.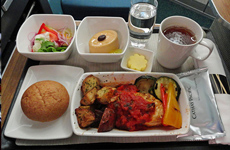 The best ones among them are Black Olive and Cheese Stuffed Chicken Breast with Mexican Salsa, Tenderloin Steak with Black pepper Mushroom Sauce for the non vegetarians; Grilled Spring Vegetables with Spicy Garlic Aioli, Italian Potato and Vegetable Skewers with Chilli Jam for the vegetarians. Pizza lovers can enjoy Pizza Alla Siciliana made with Tomatoes, Mozzarella, Assorted Bell Peppers ,Mushrooms sautéed in olive oil and Pepperoni Sausage. 
Life café is well-known for its platters. Enjoy Sushi Platters like the Fotomaki Platter has 12 Pcs Thick Rolled Sushi with Wasabi and Gari. For those looking for a big Indian meal can enjoy the Thai Red Curry Chicken Served with Jasmine Rice or Mutton Roghanjosh Platter. People with sweet obsessions can enjoy a Carrot Cake with delicious moist layers of Carrot cake and Cream cheese icing or the Tiramisu that is an Italian Custard made with Mascarpone, Whipped cream, Lady fingers, Marsala and Coffee liqueur topped with Ground chocolate.