Pack your bags and head
to the pristine locales of Rishikesh as V Resorts Rajaji National Park takes
you for a week long expedition filled with yoga, meditation, nature, wildlife,
adventure and relaxation galore. The special yoga package offers you to indulge
in yoga, classes based around posture, breathing, relaxation, meditation &
diet in the midst of wilderness.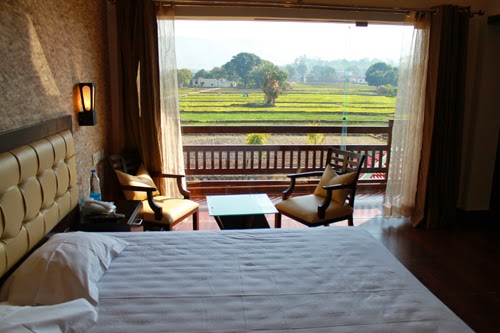 Rajaji National Park is a
nature endowed wilderness and V Resorts is huddled cosily in the heart of the
Park. Located in the outskirts of Haridwar and Rishikesh, V Resorts Rajaji
National Park is a charming resort amidst the wildlife offering breath-taking
views of the picturesque landscape of hills and farm lands. Nestled
comfortably in the midst of the park, all 16 rooms of the resort allow you to
luxuriate in the richness of the elements of nature.  Chary wildlife, the
winding sprightly river, the magnificent hills and large open viridian
farmlands are just some of nature's showpieces that await you at V
Resorts. 
The silence of the forest
and the picturesque locales together make for a peaceful haven that is
extremely relaxing and will make you forget the 'rushed timetables of city
life.' Indulge in dedicated yoga and meditation practices with
the in-house instructors as they guide you through the 'asana' leading to
peace and restoration of the body, mind and soul. The Yoga program is aimed at
helping people re-balance their work-life situation by meditating, getting some
exercise, relaxation, sightseeing and having some fun along the way. Located
inside the forest, the resort offers the best setting to help inspire you.
Beyond yoga and
meditation, the resort also brings to your palate a host of other exciting
activities. Organic 
cooking classes, city tour/ sight-seeing, white-water river
rafting at the Ganges, jungle safari, mountain biking, nature trails, bird
watching and more await your indulgence.
V Resorts brings a host
of delightful offerings to a traveller's platter with the most idyllic holiday
filled with calmness, rejuvenation and relaxation.  Plan yours today!
Package starts at INR
53,950 for 7N/8D on Double Occupancy
·
All Meals
(Breakfast, lunch & Dinner: Veg)
·
Daily consultation with
Yoga Guru
·
Two organic cooking
classes by chef during stay
·

Daily yoga in the morning
·
Once half-day
sight-seeing tour (Rishikesh or Haridwar)
·
Once Aarti darshan to
Haridwar during stay
·
Once Jungle safari during
stay
·
Once river-rafting during
stay
·
Once village-tour during
stay
·
Evening movie with wine
(once in the trip)
·
Traditional Welcome +
Welcome Drink on arrival
·
Unlimited usage of
swimming pool/ multi-specialty gym
·
Unlimited usage of indoor
& outdoor recreations
·
Guided nature walks and
bicycle tours
·
Pick & Drop from
Railway Station (Haridwar)
·
Airport (jolly grant-
Dehradun)
Package Validity: 
Till April 30, 2015
​