Usually during my trips I tend to eat unhealthy snacks loaded with preservatives. So this time I thought of trying something different and opted for some healthy snacking.
I came across awe foods – a company that creates snacks devoid of preservatives or any harmful ingredient. After checking their website, I ordered for a pack of four different crispies. The order came to me on time and was very beautifully packaged.
Packaging –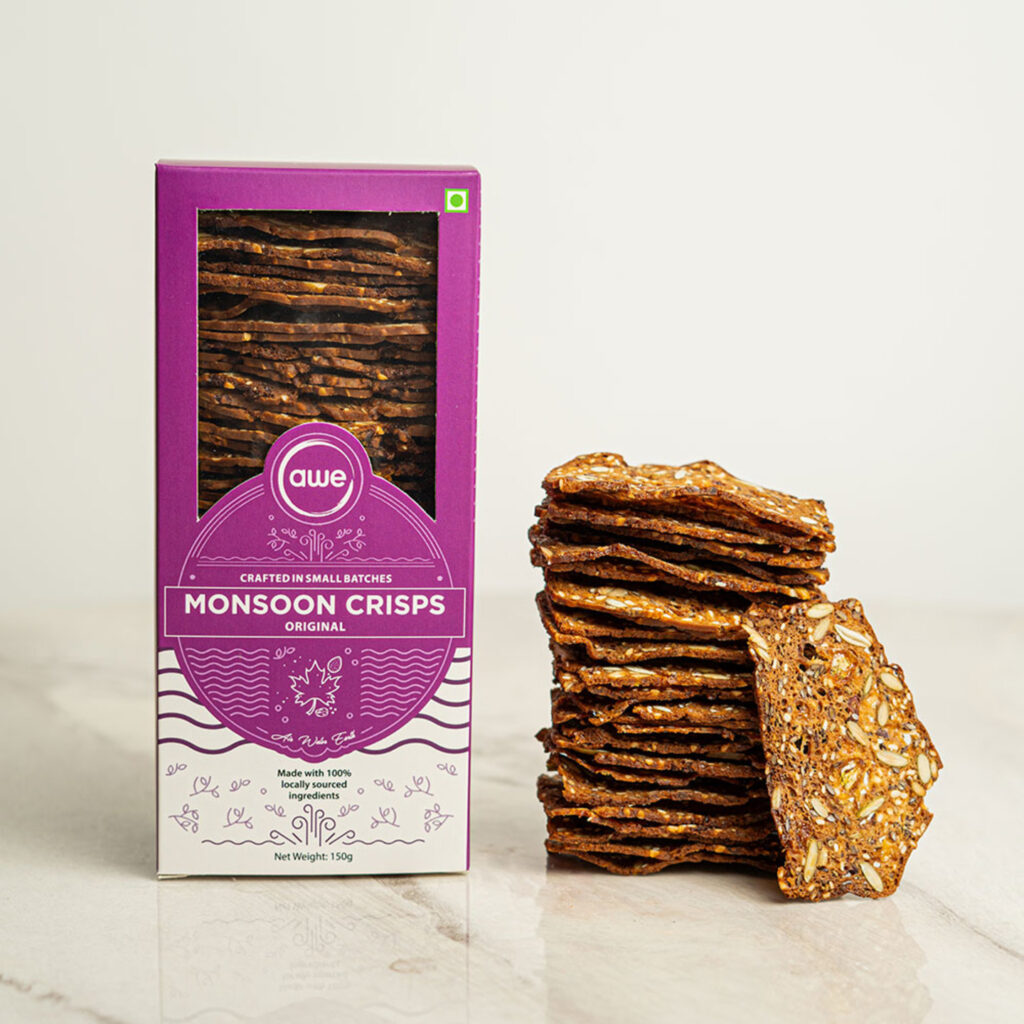 A product reflects its brand image through packaging and marketing. I was impressed with their packaging and ease to open the packets.
Each package was packed with flavor and healthy ingredients. Just like my passion for travel, I am also passionate about healthy eating.
The company has launched these amazing products –
Monsoon crisps – Ajwain and black pepper – This was like a treat for the senses. Tempered with minty, peppery goodness, these crisps are a perfect way to go binge eating. Fragrant ajwain meets the heat of black pepper in a burst of flavour.
Monsoon crisps – Original – Combine the richness of raisins with the sweetness of maple syrup, and you've got yourself one flavor-packed snack. Go guilt free with this sweet goodness.
Sourdough crackers – parmesan and thyme – Infused with aromatic thyme and the gritty goodness of parmesan cheese, these whole-wheat crackers are a gut-friendly, munch-friendly snack.
Sourdough crackers – chilli and sesame – I loved the hot notes of chili-infused with the sweetness and crunch of sesame seeds. These whole wheat sourdough crackers are the definition of 'Simple is Best.'
The best part is they are gluten free so if you are health conscious you can enjoy these snacks guilt free.
Pair them with dips like guacamole, salsa, hummus and serve them to friends at parties and get-togethers.
The highlight of these crackers is that their packaging is so convenient; you can take them anywhere you travel. Easy to carry in bags and open them up anywhere and anytime. The crackers are crunchy and soft at the same time. They are affordable too and can be easily ordered online.
Awe Foods
AWE Foods is our honest effort to create high-quality snacks and condiments in a sustainable manner with a reduced carbon footprint in our packaging.
They bring you a range of snacks and condiments that are delicious and convenient, with unique flavors that will leave you wanting more. Their products are made from locally sourced ingredients and in small batches to ensure quality. The snacks and condiments are versatile and easy to use.