Cyber Hub is the best place to hang out with your friend and colleagues. A prime area which falls closest to the office location, this place has a plethora of dining options to indulge in. Although I have visited the place several times for business meetings or casual get- togethers with friends, I have always preferred this place as the best for dining. Recently I reviewed Circus – a fine dining place and loved everything about it.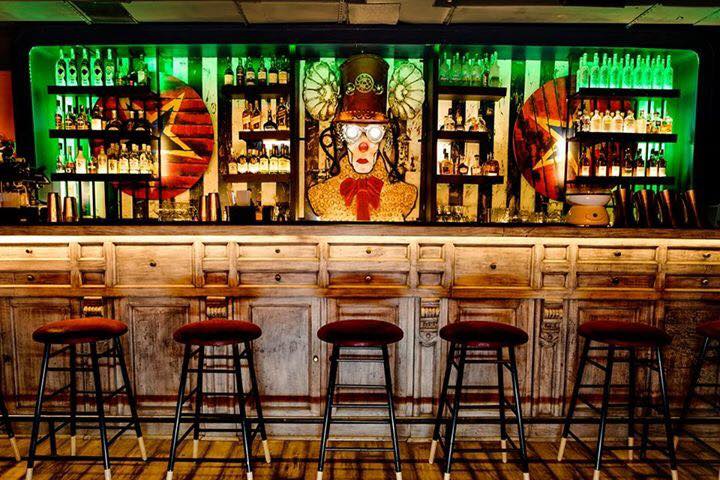 First Impressions
The moment you walk in, a colourful ambiance catches your attention. Bright lights adorn the place and wall art accentuate the vibe of the restaurant. This place is a fantastic take on the usual dining places in Gurugram with its unconventional setting and an elaborate menu of beverages and food. 
The best part is the hospitality that simply wins you over. After being seated, we soak in the musical score playing in the background. Although there are tables and chairs spread out evenly,  their sofas give the most comfortable dining experience. 
After taking a glance at the menu, we finalized with a few dishes that seemed worth ordering. However, the chef prepared some of his favorite dishes for us to devour. We started with a palak patta chaat, a traditional starter made with deep fried spinach smeared with gram flour and plated with dips and sauces. What we loved about this dish was unique flavor and presentation. Next we ordered for some Greek salad – a different take on the regular salads, this one scored high in taste and freshness. 
The vegetables and olives mingle well with the dressings while the toppings accentuate the flavor. The shredded chicken is worth ordering. We would recommend this dish owing to the soft texture and light dressings. The peri peri chicken is another recommended dish for chicken lovers. We sealed the meal with a chocolate fantasy cake – a delicious medley of chocolates, nuts and sauces. 
The drinks that went well with the food were – capriska cocktail that my daughter ordered and an apple cinnamon juice which I ordered. My drink had the perfect balance of taste and freshness of apples that were devoid of preservatives or added sugar. 
Visit this place for a fabulous array of lip smacking dishes and innovative cocktails. Their food variants are perfectly paired with an exhaustive collection of juices and mocktais.
Address
Circus, Cyber Hub, Gurugram