Usually when we travel, we stay in a large range of different accommodations. We have been lucky enough to stay in some incredibly luxurious hotels all around the world- but nothing quite compares to the Vijayran Palace in Jaipur.
The surroundings, architecture, amenities, service, and food are some of the factors to choose this hotel when you visit Jaipur the next time.
For fun seekers the resort is far from the maddening crowd of Jaipur. It is the best place to step back and take time to enjoy the tranquil surroundings of the Aravalis and a plethora of holistic activities and cuisine to aid relaxation. The resort's 40 keys are designed for guests wishing to experience a comfortable and lavish escape.
So, why is Vijayran palace worth experiencing?
Well for starters, I think this place is absolutely perfect for a family weekend getaway. Considering the fact that it has huge open spaces for children to run about, gorgeous villas and rooms to relax in, scrumptious food to satiate the palette. Vijayran Palace is definitely the most distinguished property I have come across.
The hotel's magnificent architecture is a stark contrast to most hotels in the area, and submerges its guests in surreal fantasy world. Resembling an authentic Palace, Vijayran Palace is comprised of a series of ultra-stylish villas and rooms all clinging to the hillside. The design also blends the bygone regal era that is the perfect answer for wedding destinations.
Location
This newly built property is located in Kukas, Village Kacherawala, Jaipur. There is small diversion from the NH 8 if you come from Delhi which takes you through a winding road and leads you to this gorgeous property.
Covid safety precautions –
The top reason for staying here is the precautionary measures taken during the times of covid. I found the place extremely safe and hygienic. From the moment we parked the vehicle, a feeling of warmth and safety could be felt. The entrance has a guard who welcomes guests with a temperature check, sanitizer.
First Impressions
The moment you walk towards the reception, there is a certain loyal luxury feel to the entire place. Huge chandeliers, walls covered with soft warm colors, upholstery matching the ambiance makes the Vijayran Palace a luxurious place to stay in. We were fortunate to check in during the monsoons which made it look even more endearing.
The reception has a friendly staff that helps guests through check-in and filling up the safety guidelines forms. After the speedy check-in, we were escorted to the dining room for a nice warm breakfast.
Dining
Vijayran Palace has a beautiful dining area that reflects the royal lifestyle of the Maharajas. Huge ceilings adorned with captivating colors and artistry adds charm to the place. There are several artifacts adorning each corner to accentuate the bygone regal era. There is also an alfresco dining area which is the best part. You can feast your eyes on the wide open space while enjoying a scrumptious meal. The service is top notch and the seating area is classy. The restaurant has taken extra measures in keeping the place hygienic and sanitized. Although, there is a limited variety of dishes in the menu, but the quantity and quality of each dish is worth complimenting. The food is cultivated on the property, as the resort has its own kitchen garden.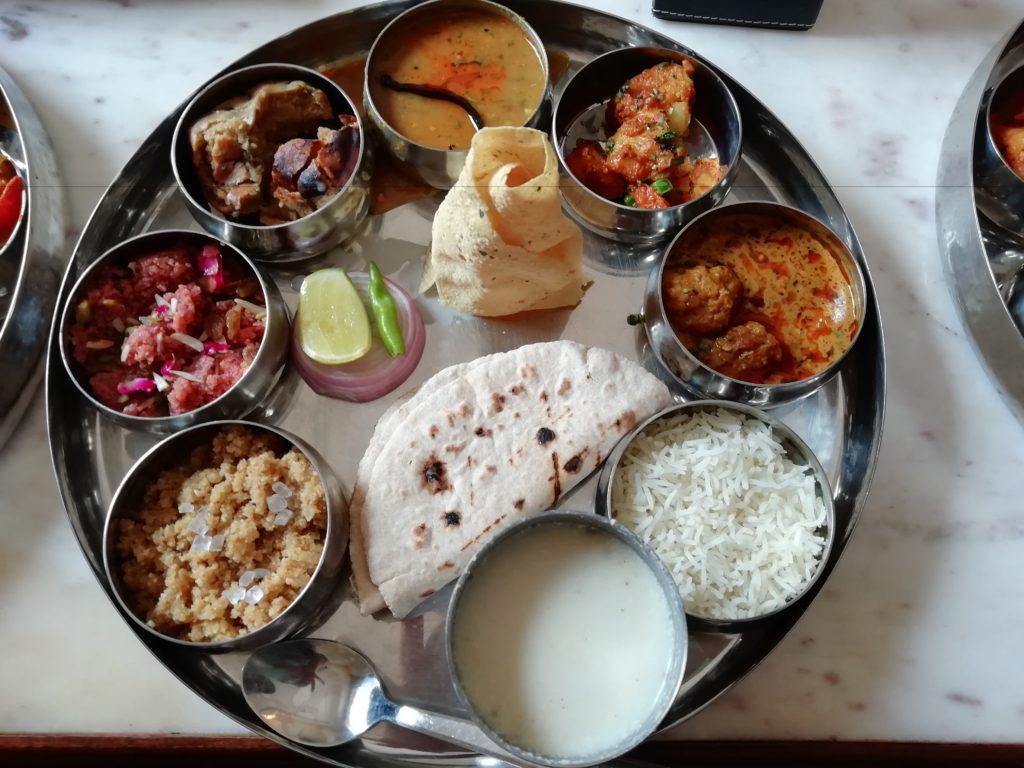 We would highly recommend trying their Penne pink sauce pasta. I absolutely loved the garnishes of thyme, basil and rosemary, all freshly picked from the garden. Their highlight is the Rajasthan Thaali that comprises of authentic dishes from the pink city. Dishes include daal baati choorma, vegetables, curd and rice. The flavors match well with the expectations and it's definitely something worth trying.
Accomodation
Vijayran Palace has some of the finest rooms and villas. They are bifurcated into Presidential villas, terrace haveli suites, courtyard haveli suites, balcony havelis suites and haveli room.
They have about 40 keys which include garden villa and pool villa. We had booked ourselves for two nights and three days at the pool villa. The rooms are very spacious, extremely well appointed and always super clean.
Our Pool Villa
This place is highly recommended for people with big families. There is an entrance corridor, separate bathroom/dressing area, one huge open-plan bedroom and a queen's rollaway bedroom. There is a super-comfortable king-size bed, exemplary house-keeping standards and a marble-lined bathroom with twin sinks, bath, large walk-in shower and a huge tub.
I loved the colors of the bedrooms. Each room had everything I could possibly need. Décor followed a white colour scheme, and the crisp white bedding was lovely to curl up in after a long dip in the pool. There was a huge plasma TV and powerful air conditioning in the entire villa.
There was also a kettle with a nice selection of teas. The amenities – daily complimentary water, large wood luxury closets with built-in drawers and storage, tea & coffee maker, LED TV, mini bar, hairdryer, complimentary Wi-Fi, safe deposit box, bathrobes and slippers, a sleek table and chair to work.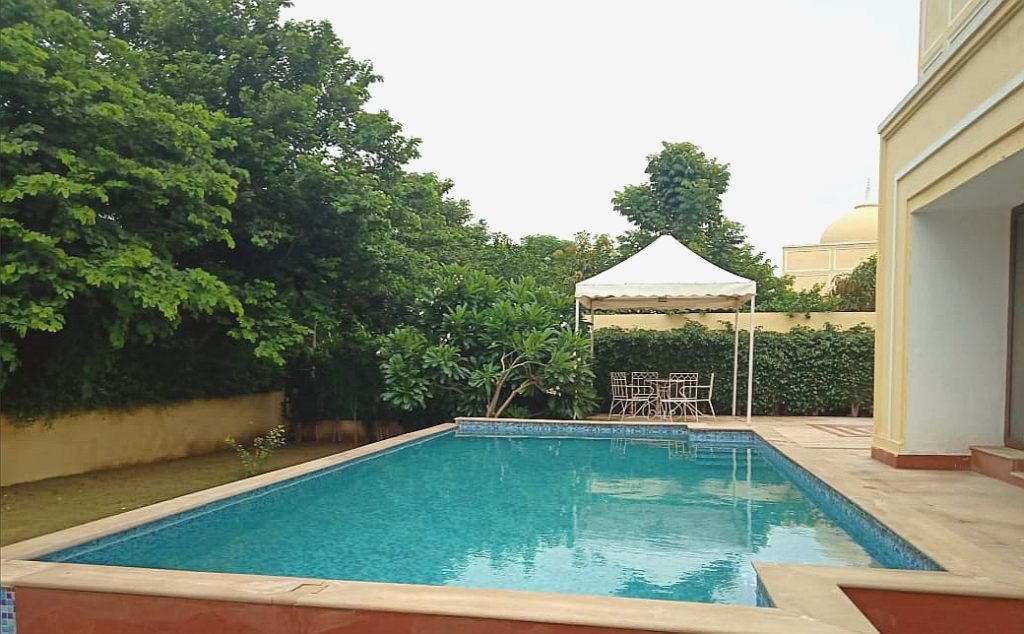 Outside there is a large garden area, sun loungers, an area for outside dining, and of course, a private pool. The pool was definitely my favorite part of the villa. It was a perfectly good size for swimming laps. There was also a private dining area with canopies to enjoy a nice breakfast or evening snack after a relaxing dip. We loved the pool so much that an entire day was spent in it.
You can book a pool villa with Vijayran Palace here.
Recreation
Vijayran Palace and its lush grounds are designed as an expansion of the surrounding natural landscape, creating a green wonderland for guests to enjoy. Natural features such as indigenous trees & small plants are integrated into the overall design.
Throughout the resort there are plenty of outdoor spaces for guests to pause, breathe and reflect. There are activities like bicycling, horse riding and bird watching to keep guests immersed in the natural scenic surroundings. We had an amazing time cycling through the rich green area.
The heart of the resort is the delightful pool area, where you can feast your eyes gazing at the beautiful hilly ranges while taking a dip.
Perfect wedding destination
The Vijayran Palace is also perfect for wedding destinations. They have royal tapestry; artistic décor and exotic ambience to make a fairytale wedding come true! The resort offers another marvel in form of an on demand cultural show exclusively for wedding guests that include Rajasthan's folk songs, folk dances and the much appreciated Ghoomar.
You can enquire about wedding destination and theme here.
Rustic authentic feast, exotic backdrops for pre and post wedding photo shoots, beautiful theme based décor and lovely musical night- you ask for it and The Vijayran Palace provides it.
Conclusion
It is the hospitality of the staff and the scenic surrounding that makes us want to come back already! While we were there, we were told that the Vijayran Palace is continuing to expand providing an even more tranquil vibe, with 40 more rooms opening soon!
Details :
Address: NH-8, Kukas, Village Kacherawala, Jaipur, Rajasthan, India, 302028
Tel: 9999625509
Email: resv@royalquestresorts.com
Tariff: Rs 6,000 Onwards
Website : https://www.royalquestresorts.com/