Jungles are mysterious in their own ways. They communicate with people in a manner that stays in memories for a very long time.
My trip to the beautiful Singinawa Jungle Lodge acquainted me to the dense jungles of Kanha. Tucked away in the wilderness, Singinawa is a luxury lodge that portrays hospitality at its best.
The sight of the huge reception area makes the first impression.  A big saal tree placed in the center reflects an ode to nature which is rarely seen in lodges. Artifacts of tribal culture can be seen at every corner of the main reception area. Cushions with prints of tigers, figurines from MP, bamboo work evoke a very welcoming feel to the guests.
Luxury Accomodation
Luxury is the first word that strikes my mind as I walk in.There are elements of wilderness with a dash of sophistication in each corner. Comfort and peacefulness is kept in mind while designing the room.The rustic furniture fits in perfectly. A huge king-size bed with soft white sheets was alluring me towards it. A study table at one corner with stationary and art work was very impressive.
There are other elements like a closet with a safe , a well stocked snack bar, tea coffee that adds comfort and luxury.The silkiest cotton sheets, the fluffiest towels and luxury eco-friendly bathroom products make you feel like a queen. There's definitely no need for a TV when you live in such a paradise.But the most impressive sight was the washroom. Well lit and beautifully decorated, the plush washroom has all the luxury amenities and offers a beautiful view of the green hues while allowing privacy.
Dining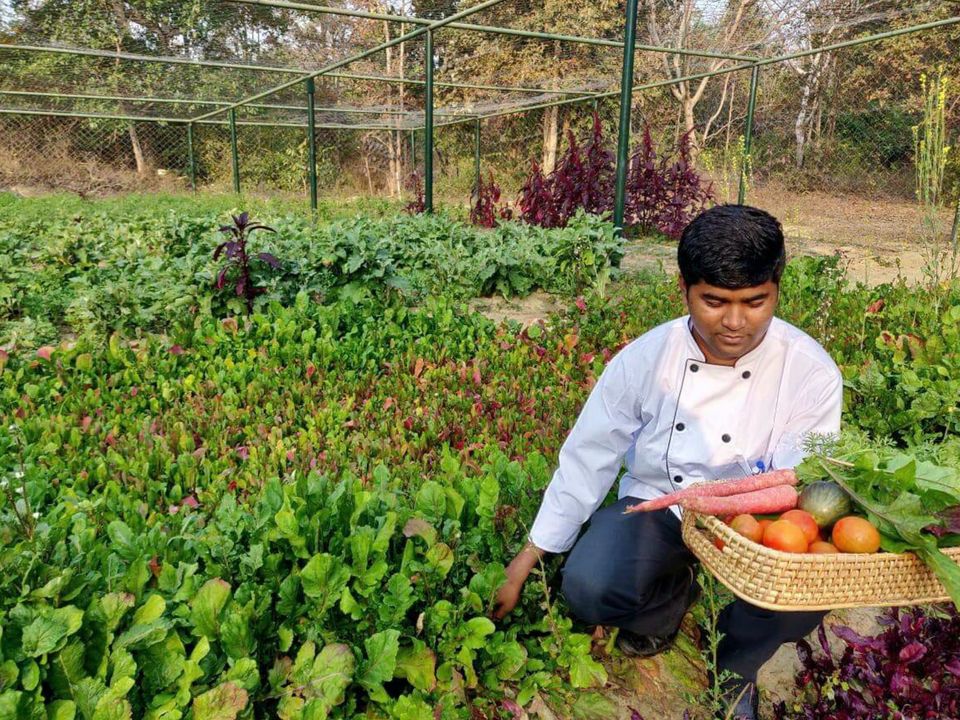 The Luxury lodge ensures guests are aquainted with the best food ever. Their kitchen garden has some amazing vegetables that are grown with love and care while the talented chefs whip up delicious meals to satiate the appetite of guests.
Activities
There are daily activities in morning, afternoon and evening. Activities include hiking to biking, jungle walk, bid watching, jungle safari, nature trek and many others. Besides that there are other activities like pottery, clay art, gond art and mandalas that keep guests occupied throughout the day. There is also a big pool that offers a panoramic view of the jungle while taking a dip.
Conclusion
The jungle walks, night safari, morning nature trail, bird watching, dancing with the tribals, gond art, charcoal painting, relaxing in the spa and pool, the divine feast, the night with fireflies and the warm hospitality of the staff
The resort is now open to guests. You may contact them here for bookings.
Place : Kohka, Tehsil Baihar, Kanha National Park, Madhya Pradesh 481111
Tel:  073038 85691
Email:
bookings@singinawajunglelodge.com 
Tariff: Rs 18,000 Onwards
Website : https://www.singinawajunglelodge.com/